Vinsanto is a symbol; there are few things that can better describe the true character of Santorini, than the island's traditional naturally sweet wine that has always been connected with all aspects of life: hard work and knowledge that is transmitted from one generation to the next, prosperity, important occasions like births, graduations or marriages; welcoming dinners for the seamen and for relatives that live abroad; but also everyday moments of celebrating life and relaxing while watching this pure, amber colored wine reflecting the unique island light.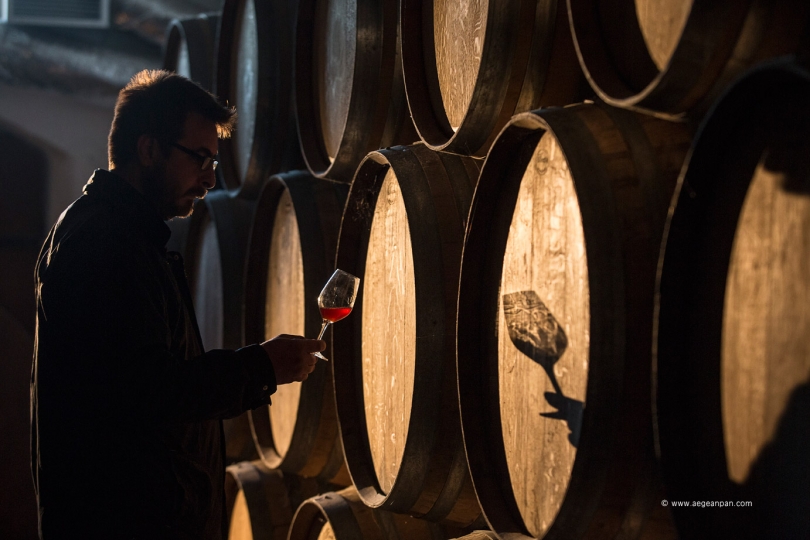 The name Vinsanto, from Vino di Santorini, as well as the island's name that replaced the original name Thira, was given by Venetians conquerors: the view of the church of Santa Irini, from their boats, was a landmark for finding their way back to the island. I don't know about you, but I absolutely love old stories like these…
At
Estate Argyros
in Santorini, I learned so many things about Vinsanto and it's history; and those, made me feel closer and relate to the island even more… The people of this distinguished winery that was established as a business in 1903, know that the history of the wine is a part of a rare legacy, they respect it, they protect it and they grow with it.
Spending an afternoon with Matthew Argyros at their vineyards in Episkopi Gonia Thiras, was the most experiential way to appreciate the devotion of his family in fine wine making: a walk among the traditional crown-formed vines of the indigenous white grape varieties of Assyrtiko, Aidani and Athiri that grow peacefully on the volcanic soil, in order to be hand picked and stretched under the sun; a visit at the big French oak barrels where the magical blending and the secret recipe of Argyros Estate give their highly recognized aged Vinsanto; and of course, more storytelling and more wine tasting during one of those island sunsets that are really difficult to describe.


The art of making wine is like the art of playing a musical instrument… It's a perpetual procedure of a dialogue, between a man and a vine; it's not about being perfect – that comes naturally after 4 generations of passionate winemakers. It's about becoming one with the vines, unlocking all their secrets, and about discovering your place in the world doing something that makes you happy.


All the effort and time, all those values and all those special geographical elements that make Santorini exceptional, are transmitted into the Vinsanto of Argyros Estate. And when I learned that the winery's 20 years barrel aged Vinsanto has a 100 years aging capacity, I was inspired (being super optimistic as always), to start creating my own small collection of bottles, in order to create a Vinsanto flavored soundtrack for all the small and the big future life moments that are worth celebrating. What do you think about this idea? Have you ever tried something like that?